Offshore Sourcing for Metal Stampings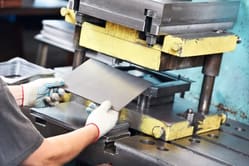 Sun Fast provides offshore sourcing for both single punch and progressive metal stampings.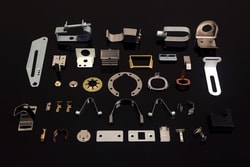 Custom Metal Stamping Parts
Sun Fast International is the sourcing agent you need for custom metal stampings. Our offshore manufacturing contractors produce high quality, high precision metal stampings that match our customers' exact design specifications, no matter how simple or complex.
We can deliver metal stampings in a wide range of materials, including:
Steel
Pre-galvanized steel
Stainless Steel
Aluminum
Brass
Standard sheet metal and thicker materials are available as well, depending on your design requirements.
Contact us for more information on our metal stamping process, or request a quote today.
Offshore Manufacturing Capabilities for Custom Metal Stamping
Our offshore manufacturing capabilities include both single punch stamping and progressive die stamping. Both metal stamping methods provide their own unique features and benefits. However, general speaking, single punch stamping is preferred for larger and/or simpler parts and thicker metals, while progressive stamping is better suited to producing smaller and more intricate components from thinner materials. Sun Fast will work with you, as needed, to determine the best stamping process for your project.
Single Punch Metal Stampings 
In simplest terms, the single punch stampings process works just as the name suggests; a single stroke of the stamping press produces a single part. With the proper tooling, holes and other features can be included in single punch metal stampings without the need for additional fabrication. Complex shapes are also easily achieved through the single punch stampings process. However, this method is generally restricted to relatively flat or "two-dimensional" parts.
Single punch stamping is a fast and efficient method of producing parts from sheet metal. Depending on the size and shape of your parts, the design template can be "nested" on the sheet metal prior to stamping for optimum part yield and minimal material waste. Ultimately, less scrap equals a lower cost per piece. When it comes to producing the maximum number of custom metal stampings from the least amount of material, Sun Fast's offshore manufacturing contractors are the best in the industry. Contact us for more information or request a quote today.
Progressive Metal Stamping 
The progressive metal stamping process incorporates numerous methods to produce intricate metal parts and components, including:
Punching
Coining
Bending
And more
The progressive metal stamping process begins with a metal strip or metal coil being fed into a stamping press that is divided into multiple "stations," each with a different stamping tool. As the material moves through the machine, the different tools stretch, cut, or otherwise form the metal into the desired shape, one step at a time.
Progressive stamping is ideal for "3-D" parts. The more complex the design, the more stations/tools required to transform the raw materials into custom progressive metal stampings. However, because the process almost exclusively uses metal strip or coil, it is generally restricted to smaller components that can be produced from these relatively thin materials. Our offshore manufacturing partners have the experience and the expertise to produce even the most intricate designs into highly accurate progressive metal stamping.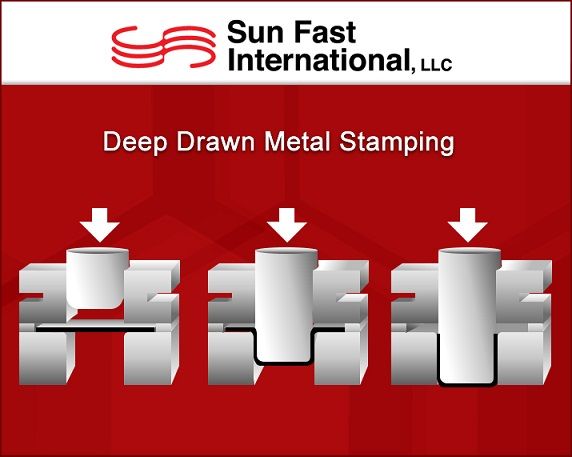 Custom Metal Stamping from Sun Fast 
Sun Fast is your number one sourcing agent for custom metal stampings. We work with only the best, most capable offshore contractors to ensure that your parts and components match your designs exactly. Providing the fit, form, and function you require.
Our metal stamping suppliers can also create new, custom tooling based on your design files.
Additionally, our single punch and progressive metal stampings can be finished with zinc plating or epoxy coatings, as needed. We also offer precision machining and other secondary services to give you complete-to-print, ready-to-use parts. With our extensive offshore manufacturing capabilities, we can do more of the work so you don't have to.
Contact Sun Fast Today
Contact us for more information on our custom metal stamping options, including progressive metal stamping and single punch stamping, or request a quote today.